Your "Company Admin" is where you will fully customize your Recognize settings and options, to design the user experience that you'd like for your team(s) when engaging with Recognize. A few of the customizations available to you in your Company Admin include:
Add custom badges and define their associated settings
Add users and define custom user roles/groups and their permissions
Set up the redeemable rewards for your users
To access your Company Admin:
Once logged in to your Recognize account portal, select the wheel icon in the top right labeled Menu
Select the Company Admin option in the center of the drop down menu:
Navigating your Company Admin
Dashboard: Upon opening the Company Admin, you will land at the dashboard. Note that your dashboard will be mostly blank until you start adding users and sending recognitions to give the system some data to work with. Once we have that data, this dashboard will be a great snapshot of your Recognize account; including its users and high level reporting on usage statistics and engagement week over week. If you navigate away from the dashboard, revisit it at any time by selecting the "Dashboard" option from the left hand navigation pane.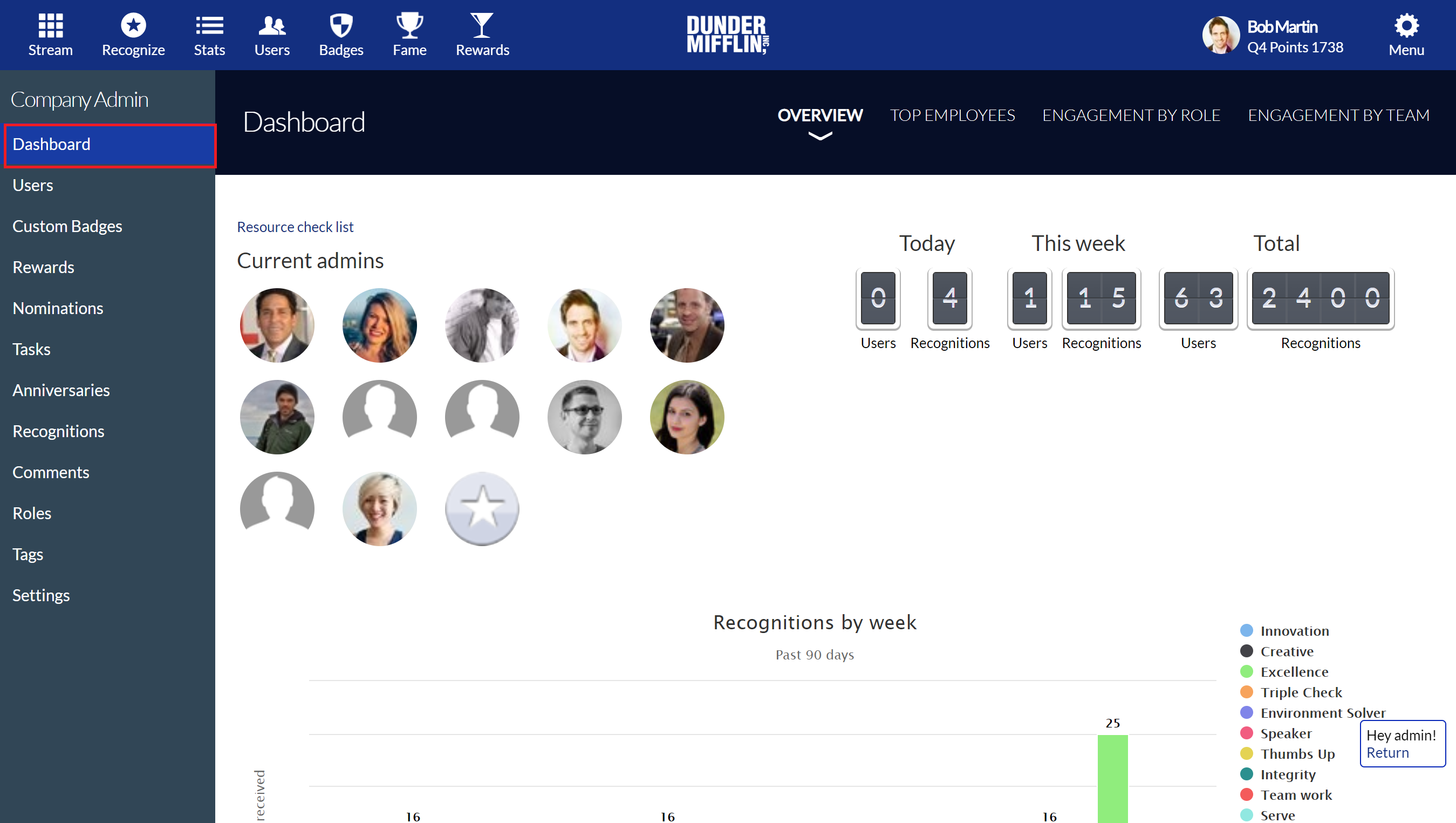 All the rest: Beyond the dashboard, your Company Admin contains the tools to fully customize the user experience for your test group (and beyond). Here's a brief overview of the options available, and their uses:
Employee Recognition & Rewards Menu Options
Users - add, edit, or batch import your program users
Custom Badges - create/modify your badges and define all associated settings
Rewards - set up the terms to allow your employees to exchange their recognition points for cool rewards, like gift-cards and bonuses!
Nominations - create/define a time based recognitions (one week, one month, one year, etc.) that require nominations and votes for recipients - think your "employee of the month" program!
Tasks - define task-specific recognitions, so that employees can receive a recognition associated with completion of a well defined task
Anniversaries - set up your anniversary and birthday recognition specs!
Recognitions & Comments - view all of your recognitions and comments in a convenient aggregate view
Roles - create custom user roles and permissions for managers, directors or other specific roles or create groups-based roles for teams, regions, etc.
Tags - labels that can be assigned to nominations or tasks to to help categorize them
Settings - customize your full account settings; from email notification preferences, to statistics, to user syncing options