Recognizing your employees for a job well done, or encouraging their colleagues to do so, is an excellent way to enhance the employee experience. Recognize's Recognitions feature can help you facilitate the recognition process in a seamless, digital manner. Here are some instructions on how to enable this feature and submit recognitions through the platform:
Configure Recognition Settings:
Determine which recognition settings to enable via the Company Admin/Settings portal
Select the wheel icon in the top right corner labeled 'Menu'
Select the 'Company Admin' option in the center of the drop-down menu
Click 'Settings' on the left-side menu
Scroll down to locate the 'Programs' Section




Toggle on/off each Recognition setting to your organization's preferences:



Allow SMS notifications for recognitions - Users can get notified by text message(SMS) to their cell phone when they are recognized.
Limit sending to within company only - When enabled, recognitions may only be sent to existing users in your organization
A message is required to send a recognition - Require each Recognition to include a personalized message from the sender.
Limit new recognition to be accessible only to your organization - Turning off this setting will allow new recognitions to be accessible to the public (Google & other search engines, Linkedin, etc.)
Allow manager to resolve recognitions they sent - When enabled, managers can approve the recognitions they send to their direct reports.
Allow staff to make recognitions private within your company - enables private messages to be sent between users
Allow staff to make recognitions private within your company that only sender, recipient, and admins can see - This allows staff to send a personal message to people without others knowing. Note: This will still be visible to the Company Admin.
Allow adding tags while sending recognition - Customized tags can be attached to recognitions - e.g. company values, company accounts, etc.
Require tags while sending recognition - When enabled, this would require users to add tags to Recognitions.
Customize Recognition Badges:
There are a variety of stock badges already created for your convenience in the 'Custom Badges' section of your admin portal that you can customize to your specifications. However, creating your own custom badges that align with your specific organizational goals and values is often where some of the greatest value comes from.
Select the wheel icon in the top right corner labeled 'Menu'
Select the 'Company Admin' option in the center of the drop-down menu
Click 'Custom Badges' on the left-side menu
Select 'Upload new badge' from the top of the custom badges page




In the upload window, give the badge a title of your choice. The title would typically indicate a company value or achievement. Note - no two badges can share the same title
If you'd like, add a description of this badge. This detail will visible during the badge selection process
Set a badge sending limit, if you wish. This restricts how many badges can be sent by a single user
Select the time frame that this limit will apply to
Choose the image you would like to use to represent this badge
Select "Create Badge" to add the badge (the rest can be customized in the next step)




Here you can further customize you badge. When you have filled out these sections, make sure you check 'Enable Badge' to activate the badge, and keep "Show in badge listing" checked if you would like this to be visible in the badge listing. Some of the customizations include:

a. Additional details (visible in the badge header)
b. Nomination badge (toggle on/off to make it a nomination badge)
c. Require approval (subjects submissions of this badge to an approval process)
d. Points (optional - assigns a rewards value that can be redeemed after receipt)
e. Badge sending limits (restricts how many badges can be sent by a single user)
f. Roles (restricts the sending of the badge to specific company roles - e.g. Managers)
g. Achievement (optional - highlights the badge as an employee achievement)
h. Instant (enables 'one-click' recognitions to be made by clicking on a user's image)
i. Force private recognition (hides this badge from public view)


Once these details are updated, click 'Save badges'


Submit a Recognition:
Once your badges are set, your employees can submit 'Recognitions' for each other through their individual Recognize portal.
Select 'Recognitions' from the top left navigation bar
Click 'Choose a badge' to select the correct Recognition campaign
Under 'Who do you want to recognize?' enter either an employee name or email address within your organization
Type in the message you wish to send with this Recognition, such as why you are recognizing this employee
Tags are optional and can correspond to a company value, company account, etc.
If your organization allows private messaging, this box can be selected to make the Recognition private

Note: If your organization uses the Yammer integration, you will also see a 'Post to Yammer' option, which will automatically be checked. If you do not wish to post your Recognition to Yammer, simply uncheck this box


Click 'Recognize' to send the Recognition to the employee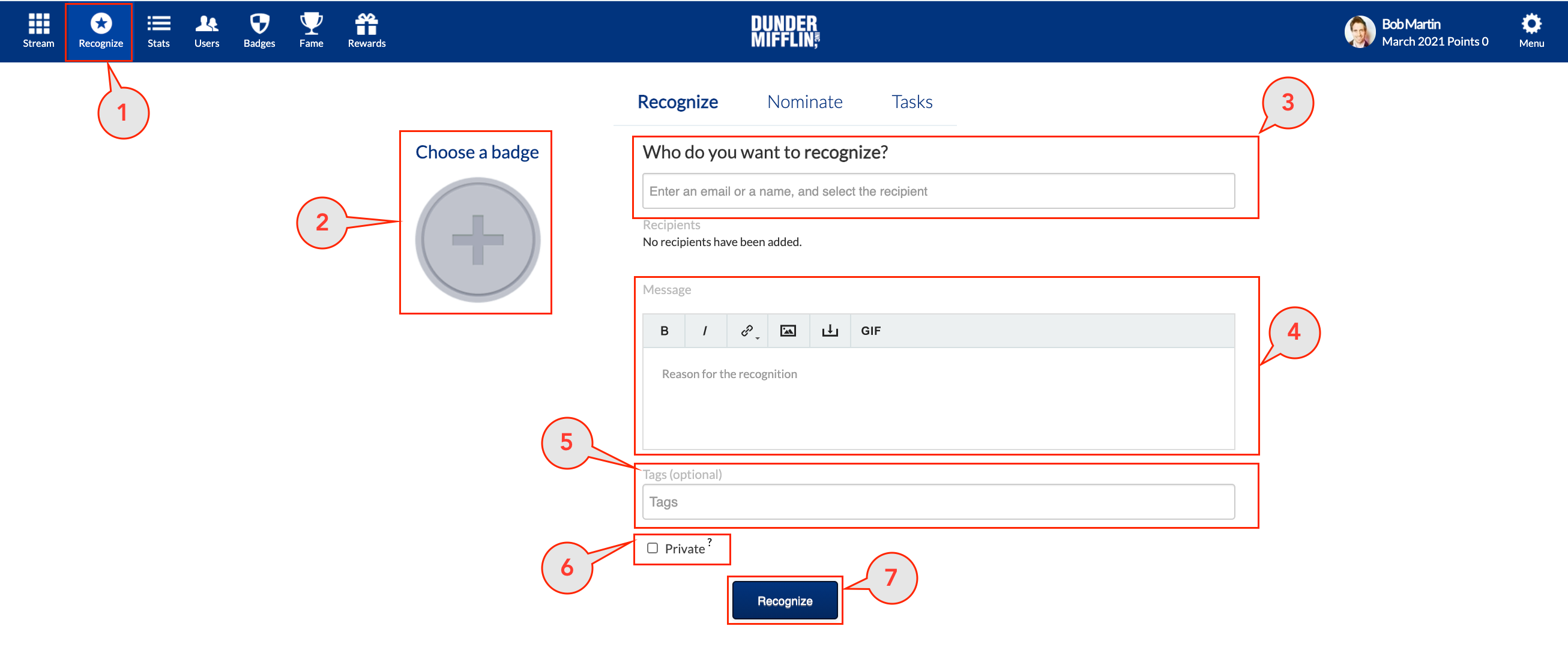 Review Recognition Reporting:
Over time, the admins can log in and review submitted 'Recognitions' via the Company Admin/Recognitions portal. Different 'Recognition' review tools are available for company admins:
Select 'Recognitions' from the far-left navigation bar in your Admin Portal
Interval - Sort 'Recognitions' by month, quarter, trimester, year, or a custom date range
Attributes - Click the gear icon and select the attributes you wish to see in the table below
Show - Display option - toggles between 25 to all entries. Note: you must change to 'All' if you'd like to export all records
Search - Type in an employee's name or role for a specific search
Filter by role - Sort 'Recognitions' by company role - e.g. Manager, Admin, Employee
Export - Option to export recognition data into either CSV, Excel, or PDF format


Please refer to the 'Send your first recognition' help article for further details.