When looking to collect votes to determine award recipients, Recognize's Nominations feature can be an effective way to facilitate 'secret voting systems' that identify top employees (e.g. 'Employee of the Month'). So in order to activate this feature, the following actions must be taken:
Enable Nomination Functionality:
Enable the 'Nominations' tool via the Company Admin/Settings portal.
Toggle the different settings for your 'Nominations' tool:

Allow Nominations (toggle to 'on' to activate the feature)
Message is required (option to personalize the nomination - e.g. adding feedback)
Allow quick nominations (rapid-nominations by Managers or Company Admins)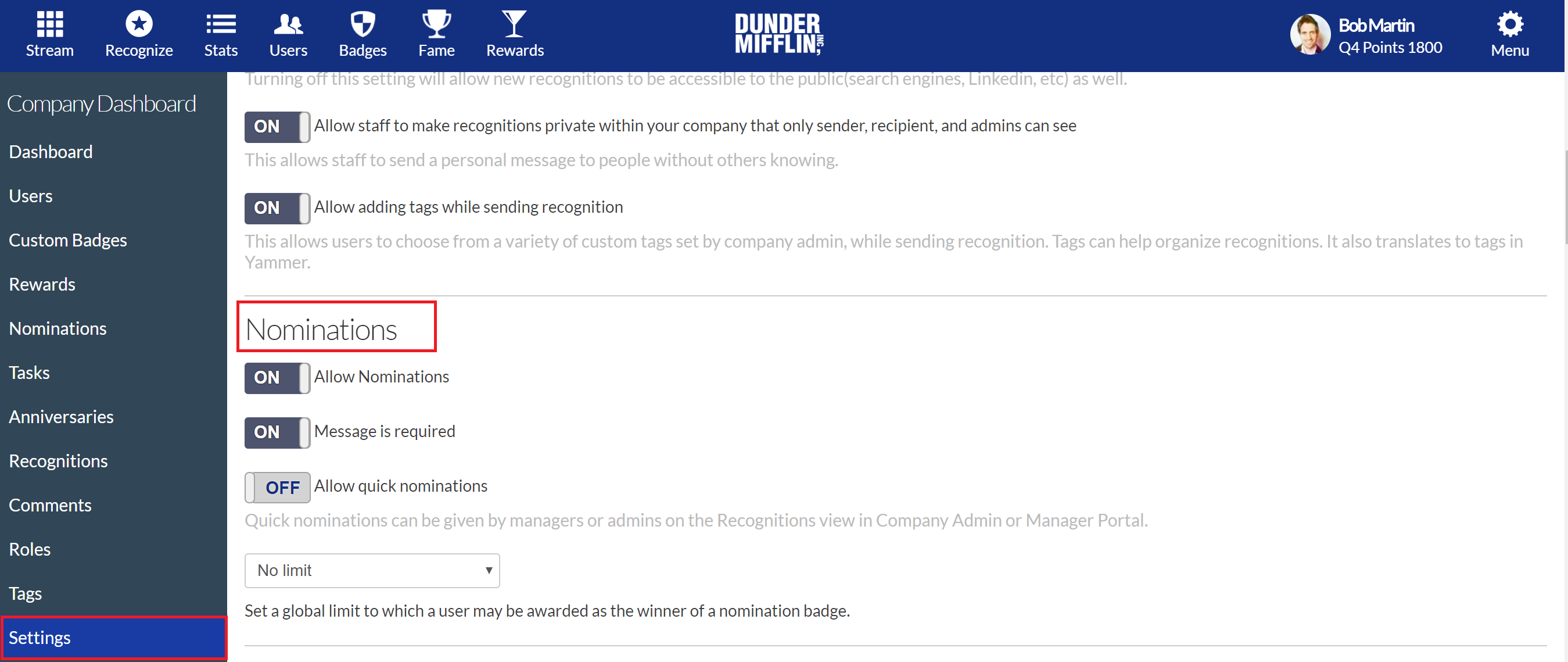 Customize Nomination Badges:
Determine which badges to customize for 'Nominations' via the Company Admin/Custom Badges portal.
Complete the following fields for each badge:

Title (e.g. 'Employee of the Month Nomination')
Enable (activates the badge)
Description (text that will be listed on the nomination)
Additional details (text listed on the top of the badge page)
Nomination badge (toggle to 'on')

Note: once a badge has been used as a Nomination, it cannot be reversed.

Limit Awards Winners to (limits the frequency of nomination submissions)
Quick Nomination (enables users to link a specific recognition to a nomination)
Allow Sender to Nominate Themselves (option for self-nominations)
Badge Sending Limits (per user - optional restriction)
Roles (optional - restricts nomination sending to certain roles - e.g. Mangers)

Click 'Save Badges' after making updates.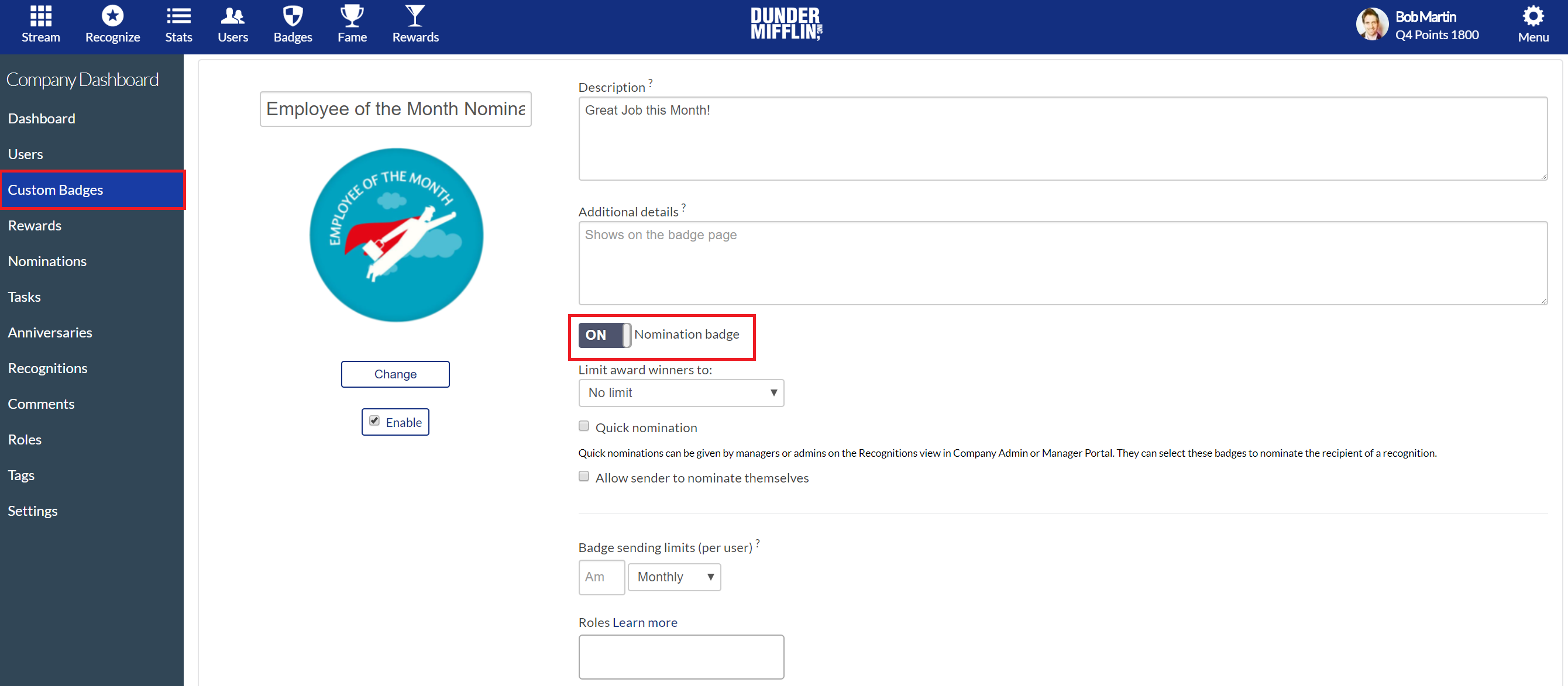 Publicize a Nomination:
Once you've created a 'Nomination' badge, you can notify your staff of the voting process.

Note: 'Nominations' are not publicized on the Recognize Stream nor in user profiles.

Be sure to publicize the 'nomination window' (time period in which people can submit nominations) in advance to give your staff plenty of time to submit them.
Submit a Nomination:
After publicizing the 'Nomination' voting process to your staff, they can easily submit them through the Nomination tool of their individual Recognize portal.
Users can complete the following fields for each nomination:

Choose a Badge (select the correct 'Nomination' campaign)
Recipient (type-in either employee names or email addresses)
Message (reason for nominating this employee)

A user's 'Nomination' will be privately registered in the portal.

Note: users will be able to view their submitted 'Nominations' via their profile page.

Review Nominations:
Throughout the voting period, the admins can login and review submitted 'Nominations' via the Company Admin/Nominations portal.
Different 'Nomination' review tools are available for company admins:

Interval (sort 'Nominations' by month, quarter, or year)
Filter by Badge (sort 'Nomination' badges by campaign - e.g. 'Employee of the Month')

Employees with the most votes generally become recipients of the award.

A separate 'Recognition' badge (with point value) can be created for the winner(s).
Note: having multiple winners can positively impact workforce morale!

Please refer to the 'Recognize Nominations' help article for further details.