Stakeholder Communications Strategy
Define key messages
Your communications strategy should outline the key messages, and their frequency, that will highlight the main benefits of the new program and set expectations for participation. These messages will serve to generate interest in the Recognition Program for different audiences. Having language around your program makes it easier to build how-to's and FAQs, specific to your own internal use cases and structure that help to make the program more personal and more likely to stick.
A recommended messaging and communications checklist:
Two introductory emails to executive leadership (at 30 days pre-launch, and at 7 days pre-launch)
Two introductory emails to managers (at 30 days pre-launch, and at 7 days pre-launch)
An all-staff email for program launch - (launch day)
Teaser campaigns (videos, memes, etc. teasers for the upcoming launch)
Communication post-launch to share engagement stats, best practices, and example recognitions
See attached templates for examples of what these communications could look like.
Create a Communications Calendar
Plan out every milestone date for your program launch and add them to your calendar. Anything related to messaging, awareness, teasers, evaluation, etc. Here's a sample 2-month launch plan: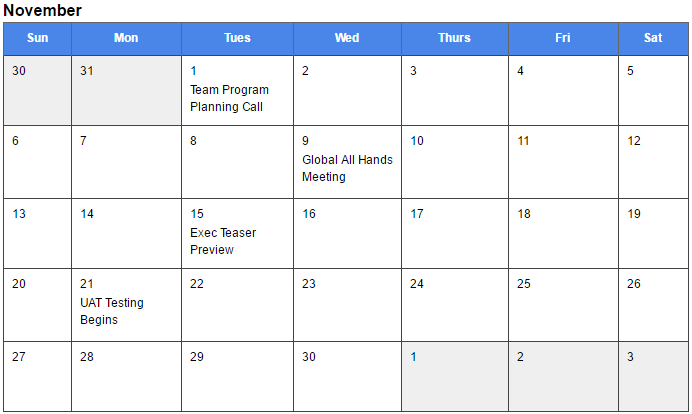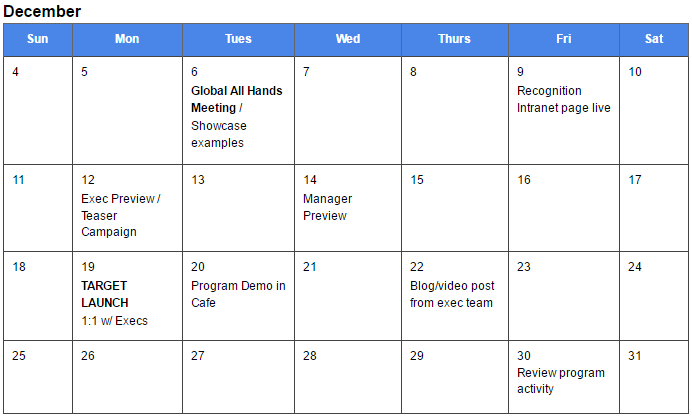 Inform and set program expectations with senior leadership
We recommend sending introductory messages to at least two (and perhaps all three) separate stakeholder groups - Executives, Managers, and Frontline Employees.
Pre-launch communications for people-leaders should extol how recognition drives employee engagement and their essential role in the success of the program.
We typically recommend two messages at minimum to these groups:
A program preview and FAQ list for executives and managers. Timeline: one month from launch
A teaser/reminder for executives and managers. Timeline: seven days from launch
Here's an at-a-glance idea of what should be included in these messages:
Make the most of this new tool and voice your support (expectation to communicate the importance of recognition to the team)
Make it a habit: Send at least one recognition story a week to someone within and someone outside of your team (expectation to set the example)
Double-down: Add your own comments to recognition your employees receive and share these at weekly team meetings (expectation to engage with other employee recognitions)
Go the extra mile: Review the automatic report you will now receive of all recognition your employees have received and incorporate this into ongoing feedback and employee reviews (expectation to review activity and adjust efforts)


A sample Executive Message introducing a recognition program called "Above and Beyond".
(This is the message sent 1-month prior to launch)
I'm excited to share that our first global recognition program is underway and will launch on December 19th!
Our last survey told us Loud and Clear that employees wanted a way to recognize and celebrate both great work and the "little things" that show our values. We have selected a tool that meets this need. It works right from (Intranet Portal Name) and we're calling it "Above and Beyond." Recognizing someone is called an "A&B".
We've highlighted some aspects of the program. Before launch, I'll circle back with specific activities we'd like your help with -- things like talking up the program, recognizing someone with an A&B on launch day, incorporating recognition in your future team meetings, and more.
We're very excited about the impact this new program will make on our people and our culture. We hope you are too.
I welcome any questions you may have,

Susan
CEO, Company X
Employee Recognition Program FAQ's

What is Above and Beyond and why is it important?
We love to celebrate our people and recognize those delivering great work while living our values. In just a few weeks, we will announce a new recognition program called Above and Beyond to help us do just that — one where anyone can recognize anyone else at any time.
When should I send an A&B?
There will be seven recognition categories to start. When you see someone exhibiting our values — being bold, authentic, passionate, accountable, connected — or delivering great performance or a great result, recognize them using the Above and Beyond program.
How does Above and Beyond work?
Above and Beyond is built in (Intranet program name) so you can access it from any device and send one of seven recognition categories. Not only can employees see this recognition story on their profile, so can everyone else -- including their manager, and others can contribute to it as well. It's an opportunity to celebrate wins, share stories, and say thanks on a daily basis. It's instant, online, unlimited, and global.
Is there a reward for sending or receiving an A&B?
No. This program is pure recognition. It's about instantly saying thanks and capturing the moments when employees represent our values, go above and beyond their tasks, or deliver great results.
What if our team doesn't receive any recognition?
That's no good, especially since your team is likely doing great work that deserves to be recognized! This program is yours and unlimited, so when you see someone living your values and delivering great performance or results, be sure to recognize them by sending an A&B.
Can I use this program to recognize teams?
Yes! You can send an A&B to anyone at any time and can include multiple recipients and multiple senders if you choose.


Prepare an all-staff launch-day message
Your launch day message should be the culmination of a teaser campaign. You can get as creative as you'd like with this to really drive adoption and build excitement around the program.
Here's a message template you could use to spread program awareness.